Located in the heart of Amsterdam in a historical building built in 1656 as a former storehouse for the Admiralty. The National Maritime Museum houses one of the world's biggest collections of nautical art and artifact, including paintings, ship models, navigation instruments and world maps. Discover 500 years of Dutch maritime history and how strongly this is connected to modern day society and of the future.
Climb aboard the impressive replica of a Dutch East Indiaman, moored beside the museum and go on a Virtual Reality journey to experience Amsterdam as it was in the Dutch Golden Age.
Climb aboard replica of East Indiaman Amsterdam from 1749
Explore one of the world's biggest maritime collections
Virtual Reality journey to experience Dutch Golden Age
Enjoy the spectacular covered inner courtyard
Free audio tour (Dutch, English, German, French, Italian, Spanish, Portuguese, Russian, Chinese, Japanese, Korean)
Child friendly activities
Main gallery exhibits, Republic at Sea comprises of 50 masterpieces selected to tell the story of the growth, prosperity, and decline of the Netherlands as a maritime nation during the seventeenth and eighteenth centuries. Paintings, model ships, globes, silver, glass, porcelain, and weapons show how strongly the maritime world and Dutch society have been connected over the centuries. Water has shaped the history of the Netherlands and has determined its role and status in the world. Visitors will experience how naval battles, trading companies, and art in the seventeenth and eighteenth centuries are strongly related to the close relationship between the Netherlands and water.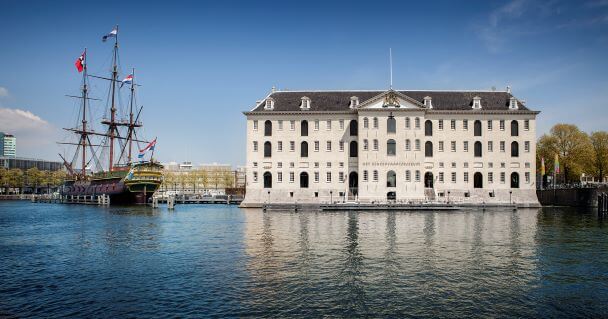 VR Journey 'Dare to Discover'Step aboard the VOC ship the Amsterdam and travel back in time to the Golden Age. This virtual journey takes you on a flight over the historic harbor of 17th century Amsterdam. Experience how the harbor flourishes and expands rapidly. See how new land emerges from the sea and merchants from different countries bring in and ship out their goods.
Guided tours Groups or individuals can book a professional guide for a one hour tour of the museum. Each guide can tour up to 15 people, larger groups will require multiple guides. There is also an educational tour for pupils and students to learn about the Golden Age, a defining period for Dutch maritime history.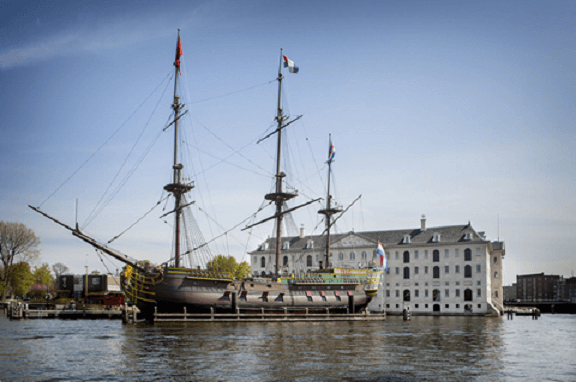 Catering, Exclusively for groups we offer various catering arrangements in our restaurant.
Event location, The museum is a welcoming location that hosts a wide variety of prestigious events and offers high quality banqueting.

Het Scheepvaartmuseum welcomes you aboard.
Het Scheepvaartmuseum
Contact: Ms Issa Shum
Address: Kattenburgerplein 1
Zip code: 1001 MK Amsterdam
Tel: +31 (0)20 523 22 22
Email: info@hetscheepvaartmuseum.nl