The Amsterdam Museum, founded in 1926, is an innovative city museum that invites residents and visitors of Amsterdam to become co-owners of our city – a metropolis in miniature. We do this by celebrating the city, but also by discussing its lesser aspects and exploring what could be improved.
Our story
We present exhibitions on a wide range of urban issues. We share knowledge, show art and heritage, and tell relevant stories – past, present and future. Historical and contemporary stories that make the city what it is, in all its forms. We do this at our museum locations in the historic city centre – the Amsterdam Museum Wing at the Hermitage, House Willet-Holthuysen and the soon to be completely renovated Burgerweeshuis complex. And we also do this together with partners at locations in city districts such as Nieuw-West, Zuidoost and Noord.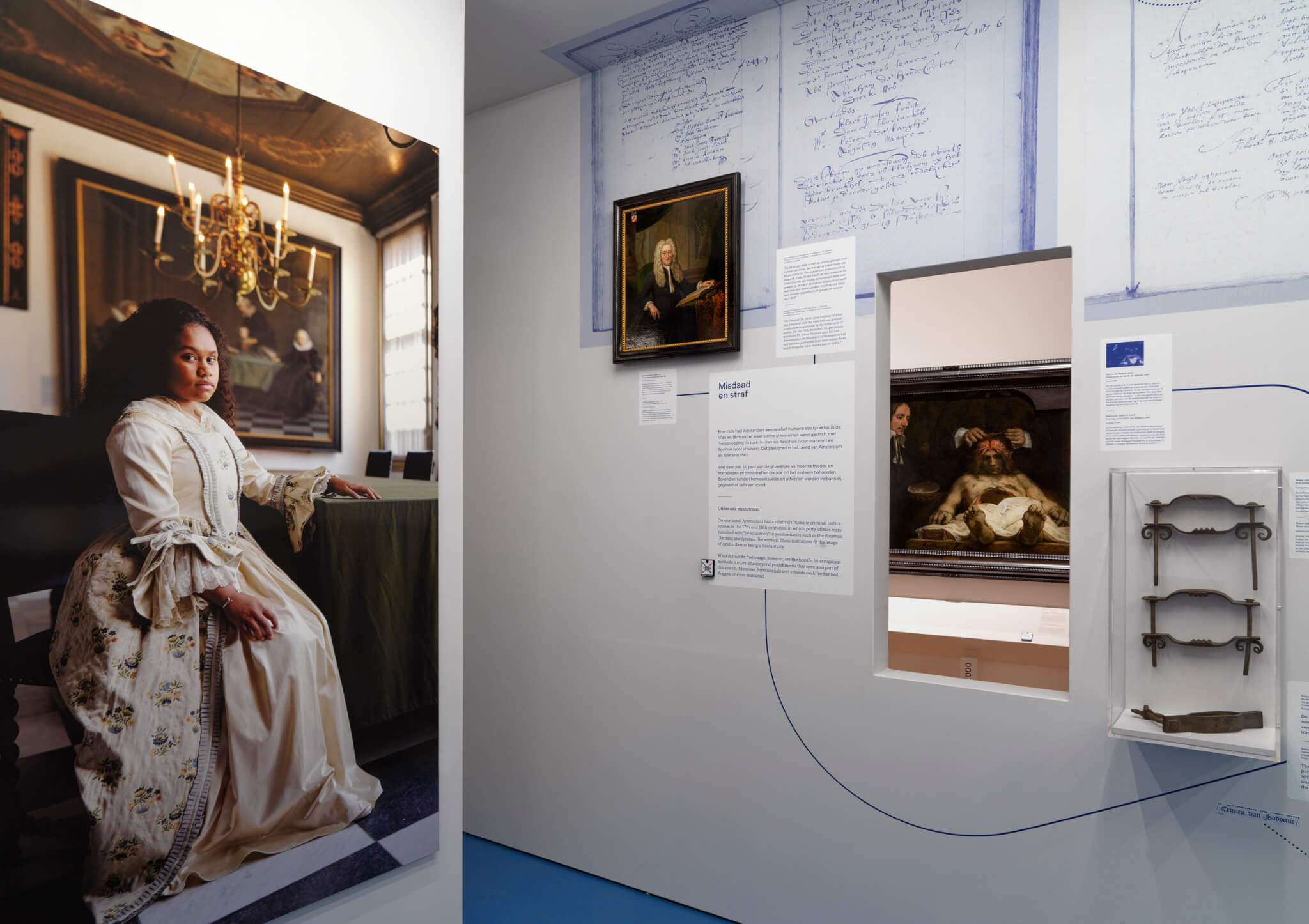 Known and new
Since the beginning of March, the Amsterdam Museum has been located on the Amstel River in the Hermitage building. The Amsterdam Museum will find its temporary home here during a large-scale renovation of the monumental Burgerweeshuis. It will feature a completely new range of exhibitions, public programs and children's activities. The Amsterdam Museum will present an entirely new collection presentation, which in addition to the traditional history of Amsterdam, will also provide ample space for opposing views and lesser known and more recent histories of the city. Varied
In addition, residents and enthusiasts of the city will have their say in changing exhibitions to show 'their Amsterdam'. With familiar objects from the collection and new or less familiar works, the annex of the Amsterdam Museum on the Amstel will show you that there is no single history of the city.
Panorama Amsterdam
In the permanent chronological presentation: Panorama Amsterdam, a living history of the city, well-known as well as new and unknown stories about, and perspectives on, Amsterdam's past give an impression of how Amsterdam has shaped and is still developing. Here you will see over 250 objects that give you a multifaceted picture of the many histories of the city of Amsterdam. Classic icons from the city's collection by Lingelbach and Rembrandt sit alongside artists such as Raquel Haver, Natasja Kensmil and Brian Elstak.
There is also room for smaller exhibitions about the stories of the city today. From Welcome to the Northside to Colonial Stories and Collecting the City. Every six months they make room for new storytellers and stories from the city of Amsterdam.
For the kids
The booklet The time travel guide is available free of charge for children (6+). Children learn in a playful way through assignments about the time of the past and now. They become aware of the different stories that can be told with a painting or object. The booklets are available in Dutch
What else
The Amsterdam Museum also regularly organizes temporarily exhibitions, guided tours and events. Please find out more about the current programme on our website, blog and social media: www.amsterdammuseum.nl

Opening times
Daily: 10 AM – 5 PM

How to reach us
15 minutes walking distance from Central Station
Trams: 2, 4, 12, 14 and 25.

Kalverstraat 92
T +31 (0) 20 5231 822
info@amsterdammuseum.nl